The Raffinatezza Ring: Embodiment of Art Deco Design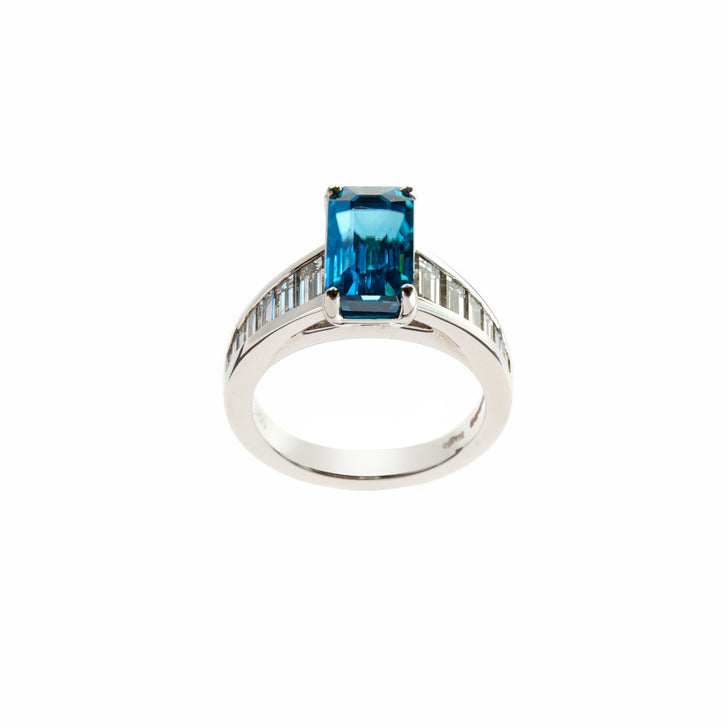 Art Deco, 'the birth of design style in the modern age', shines through with this brilliant and sophisticated setting. Following the true elements of this era, Raffinatezza embodies the graceful streamlined forms, geometric shapes and intelligent use of colour that lent consummate glamour and exuberance to The Jazz Age.
Each element has been chosen for their alluring combination, together creating a piece which is both spectacularly luxurious and aesthetically refined. It's this which the name reflects (Raffinatezza meaning refinement).
Handcrafted white gold with well-proportioned clean lines, this unique piece embraces the central emerald-cut blue zircon, flanked either side by purposeful, bold baguette-cut diamonds, each with a voice of their own, giving the uncommon blue zircon strength.
Having been panned from gravel streams for over 2000 years, clear zircons are often used in place of diamonds due to the range of optical and physical properties, zircon has stormed into popularity since the 1920's, being sought after as a main feature stone rather than a complementary addition to a design.
Zircon can be found within an array of different types of rock and is, therefore, mined today in an array of different hues and colours, the most common being yellow, brown and red. They can also be found in green, reddish brown. Colourless examples are well-known for what is called 'fire', a brilliance with flashes of multicoloured light, which is partly why it is often used in place of a diamond.
To enhance all these properties, Biagio's master craftsman based in Hatton Garden, carefully sculpt the white gold into a setting which displays all the hidden facets of the emerald cut Blue Zircon.
The emerald-cut was developed to enhance the beauty of emeralds, thus the name, but is now used on many other gemstones. The cut consists primarily of step-cut facets usually parallel to the girdle of the stone and the higher the precision of cutting, the better each step cut will meet the next. It may be argued that the best emerald-cut is mathematically organised and symmetrical on each surface to each face of the stone.
As can be seen in Art Deco design, this setting builds on bold, smooth geometric shapes by using the baguette-cut diamonds to anchor the main zircon setting. The baguette-cut is also made up of step-cut facets and is mostly seen in the form of a rectangular shape with parallel facets arranged in a terraced formation.
Each extraordinary one-off-design is individually crafted and can be set with precious stones to match your personality and flair. If the Art Deco movement triggered the birth of design in the modern age, then Raffinatezza is sure to awaken the inner sophistication of your soul with its on-point form exuding confidence.
Make Raffinatezza the perfect statement of your refinement. Each extraordinary one-off-design in The Artistry Collection is individually crafted and set with hand-selected precious stones. Once you make a piece of Artistry your own you can be sure that it is completely unique and that a piece will never be made quite the same again.
Fallen in love with a piece of Artistry only to find it's sold? Whilst no individual design will ever be recreated exactly, Biagio will design something specially for you in a similar style, which sets your story in stone. Get in touch and tell us your story.
Share this